Alliance in Motion Global Ener-Chi Pendant
Aim Global Ener-Chi Pendant: If you want to boost your resistance and immunity, increase body flexibility, and prevent your body from seizing up due to radiation and toxins then there are a few simple key steps that help you maintain your health. One is wearing an Ener-Chi Pendant which helps shield the body from unwanted electromagnetic radiation.
A necklace without a pendant is lacking, a necklace with Ener-Chi Pendant is overwhelming!
Now you have an opportunity to not only improve your performance and health but also the natural frequency of your body. The Ener-Chi Pendant has a technologically advanced version of iProtect 24/7, which uses its own features to show the right frequencies that can bring balance and endurance back to your body. Try it out for yourself!
---
iPro-Tech 24/7 Wearable Protection
iPro-Tech 24/7 is a breakthrough product that allows individuals to protect themselves in any situation. Its protective capabilities are unmatched because they're able to provide protection against communicable diseases anytime, anywhere.
| | |
| --- | --- |
| iProtect 24/7 is a personal diffusion device that can be worn in clothing or on the body. It has a 24-hour life span and it will also help to keep you protected from bacteria and viruses for up to 7 days on a single charge. | Ener-Chi Pendant together with iProtect is a product that has been created that can provide continuous protection from unwanted particles. This product is one of a kind and the patented US and single patented in Japan show its reputation to compete in the Global Market. |
---
Benefits of Using Ener-Chi Pendant with iProtect
What does Ener-Chi Pendant do to the body?
Protects you against EMF radiation
Restores your body's natural balance
Intensifies your performance
Increases your stamina
Escalates your endurance
Improves your body's flexibility
Renews your cells
Strengthens your immune system
It Protects What is Most Important To You

It's safer to be on the preventive side. Why spend so much on curing diseases when we can spend less on preventing them?

iProtect 24/7 is a Fashionable Wearable Mobile Protection

Mobile means wearable. The iProtect pendant where the iProtect pack will be placed inside has a unique design called the Flower of Life which is a symbol of serenity, harmony, and balance in life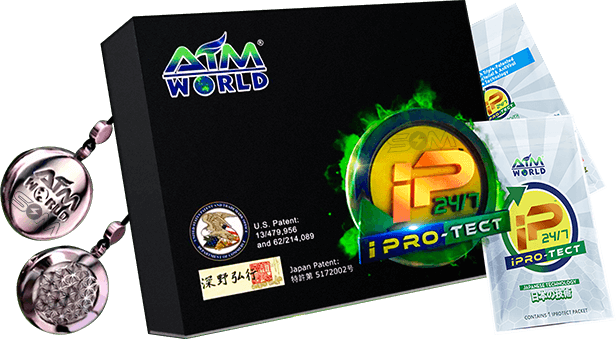 Summary
Author Rating
Brand Name
 Alliance in Motion Global
Product Name
Price
Product Availability