LIVEGOOD DAILY ESSENTIALS PACK
The Bio-Active Complete Multi-Vitamin is a unique and natural supplement designed to provide men and women with all the necessary vitamins and minerals for optimal health. This supplement is carefully formulated using organic ingredients to ensure maximum absorption and effectiveness.
The Bio-Active Complete Multi-Vitamin contains a wide range of essential vitamins like A, C, D, E, and all the B vitamins. It also includes important minerals such as zinc, calcium, and magnesium. Together, these vitamins and minerals work in harmony to support a strong immune system, maintain healthy bones and teeth, and promote optimal brain function.
The LIVEGOOD DAILY ESSENTIALS PACK is specifically tailored to meet the specific nutritional needs of both men and women. It is a fantastic choice for anyone looking to enhance their overall health and well-being.
Additionally, D3-K2 LiveGood is a special vitamin blend that plays a crucial role in promoting strong and healthy growth. It consists of two vitamins, namely vitamin D3 and vitamin K2, which work together to ensure the strength and vitality of your bones and teeth.
Please note that the rephrased version has been simplified and rewritten in more accessible language while retaining the original meaning.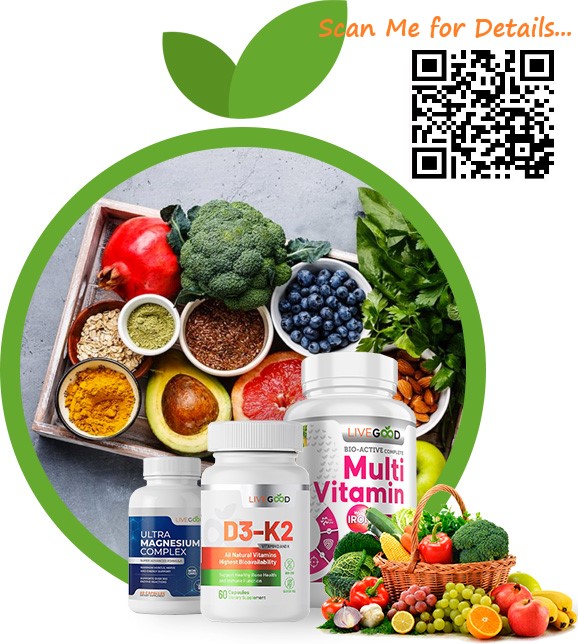 Health Benefits Of Daily Essentials Pack
To begin with, it enhances the body's immune function, fortifying its natural defenses.
Additionally, it enhances cognitive function, sharpening mental abilities and promoting clarity.
Furthermore, it nurtures heart health, supporting optimal cardiovascular function and vitality.
Moreover, it effectively combats inflammation, reducing discomfort and promoting overall well-being.
It actively supports bone health, contributing to the strong and resilient skeletal structure.
Furthermore, it aids in maintaining balanced blood sugar levels, promoting metabolic stability.
 it promotes and preserves eye health, nurturing clear vision and ocular wellness.
Nourishes the skin, promoting a vibrant and radiant complexion.
Boosts energy levels, revitalizing and invigorating the body.
Mitigates the risk of nutrient deficiencies, ensuring that the body receives essential vitamins and minerals vital for optimal health.
The Package Contains
Bio-Active Complete Multi-Vitamin For Men or Women
D3-K2
Ultra Magnesium Complex
Quantity
Contains 4 supplements per pack.
Dosage/How To Use Daily Essentials Pack
Use as directed by a consultant/physician.
Recommendations
Use up to 2-3 containers for good results
Suitable