VSP Botanics Rejuvenating Kit
Looking for a solution to oily skin, acne, and aging? Look no further than the VSP Rejuvenating Kit! Likewise, this all-in-one set includes everything you need for healthy, radiant, and flawless skin.
VSP Rejuvenating Face Cream – Organically, good for oily skin, this face cream provides the perfect balance of moisture without leaving a greasy residue. Additionally, the luminous finish adds to your overall look and feel, leaving your skin soft and smooth.
VSP Refine Bath Gel – Additionally, deep cleanse your body while hydrating your skin with this exceptional washing solution. Similarly, its mild toning properties and anti-aging benefits help reduce inflammation.
VSP Face Wash – Unconditionally, remove dirt and grime that contribute to acne with this gentle conditioning treatment. Undoubtedly, your skin will feel clean and fresh after every use.
Hydrating Toner – So also, you can energize and beautify your skin with this antioxidant-rich toner. Equally, it removes dirt and protects your skin from harmful radicals while toning and hydrating.
VSP AHA Exfoliate – Moreso, this three-in-one treatment deeply cleanses, gently exfoliates, and leaves your skin looking younger and more radiant. So also, it unclogs pores and removes dead skin cells to reveal smoother, healthier-looking skin.
VSP Rejuvenating Oil – Nourish and hydrate your skin with this luxurious oil. Its natural ingredients help reduce the appearance of wrinkles and fine lines while restoring your youthful glow.
Whether you're dealing with oily skin, acne, or signs of aging, the VSP Rejuvenating Kit has you covered. With regular use, you'll notice a dramatic improvement in the look and feel of your skin. Try it today and prepare to glow!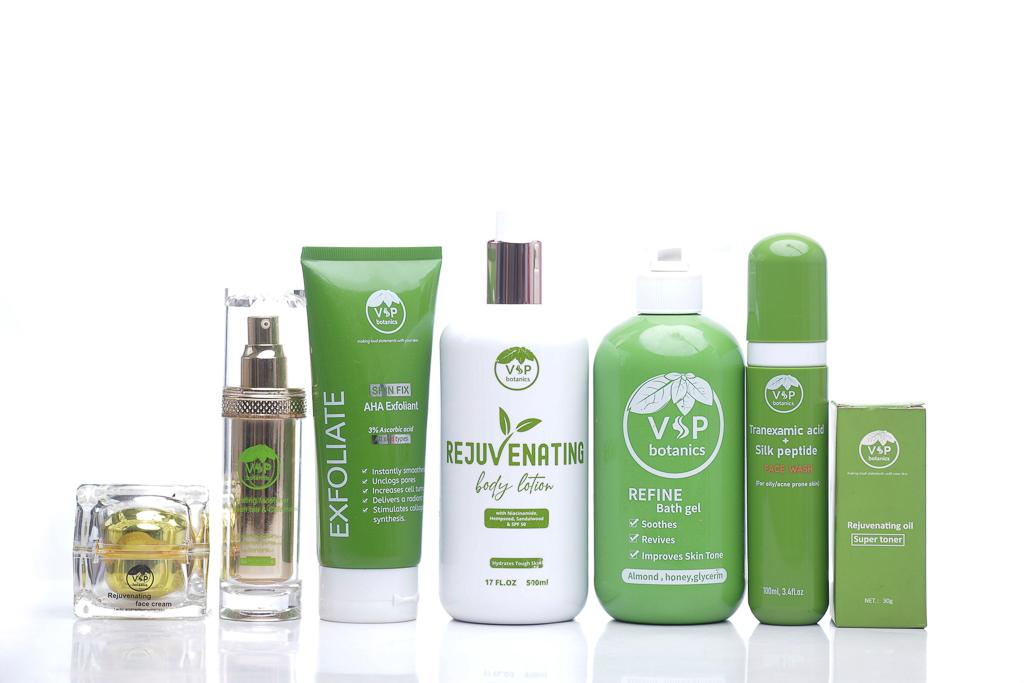 ---
Health Benefits Of VSP Botanics Rejuvenating Kit
Provides the right amount of moisture for oily skin without leaving a greasy feeling.
Leaves the skin with a luminous finish for a radiant, flawless look.
Deep cleanses and hydrates the body without removing its natural oils.
Has mild toning properties and anti-aging benefits for the body.
Reduces inflammation on the body, resulting in healthier skin.
Gently conditions the face and removes grime and dirt that contribute to acne.
Removes dirt and protects the skin from harmful radicals.
Ideal for those with oily skin as it provides sun damage protection and tones the skin.
Three-in-one treatment that deeply cleanses gently exfoliates, and leaves skin with a healthy, glowing glow.
Reduces the appearance of aging by keeping the skin smooth, healthy, and radiant.
Restores youthful glow by reducing the appearance of wrinkles and fine lines with natural ingredients like rosehip oil, almond oil, and vitamin E.
---
Dosage/How To Use VSP Botanics Rejuvenating Kit
For dosage, kindly adhere to dosage inscriptions as written on the individual product labels.
---
VSP Botanics Rejuvenating kits Contain:
Rejuvenating Face Cream
Rejuvenating Lotion (250ml)
Refine Bath Gel
Tranexamic Face Wash
Hydrating Face Toner
AHA Scrub
Rejuvenating Oil
---
Key Ingredients
Check product packaging for ingredients of each product in the set.

---
Recommendations
It is recommended you consistently use this supplement for a duration of not less than 3 months for a permanent lasting result.
---
Suitable For:
For more updates and customer support Join Our Facebook Group: Daily Health Tips,
Also, Like and follow our Facebook page:  Recs-Medix Natural Solution.